Latest News
October 2017 - Review of Sanders Model 10e Electrostatic Speakers by Robert E. Greene of The Absolute Sound
Pl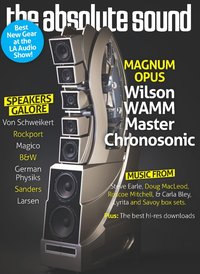 ease understand that we do not own the rights to this review in order to publish it here in its entirety.
To obtain the October issue #276 and read the entire review, please click here to be taken to TAS site.
---
The Sanders 10e's are as close to perfection as any speaker system I have ever encountered.
The Sanders are a benchmark of speaker design, a design that is superb in all respects and in some respects raises speaker design to a level never reached before.
The Model 10e is indestructible. Even very high input signals will not cause arcing. A major bugbear of 'stats has been eliminated!
The 10e's have effectively unlimited dynamics and definitely adequate bass power and full extension.
If you wanted to call the Sanders 10e the best speaker ever, you could definitely make a case.